Karen Watson is our principal solicitor and born and bred in the Macarthur area. Karen carried out her secondary education at Macarthur Anglican High School, completed a Bachelor of Social Science at University of Western Sydney and a Bachelor of Laws at University of New England.
Karen's employment history includes seven years at the New South Wales Crime Commission before joining a well-known mid-size law firm in the Macarthur area. This invaluable experience and knowledge has helped Karen grow to become a prominent and experienced lawyer. In January 2014 Watson Law was born and has continued to grow significantly since that time.
Karen has experience in many areas of the law including:
Commercial law and litigation;
Family law;
Property law and conveyancing;
Estate planning and Will disputes;
Criminal and traffic matters.
Rebecca is a solicitor born and raised in the Macarthur area, having attended Broughton Anglican College for her secondary education. Rebecca completed a Bachelor of Laws and Bachelor of Business at the University of Technology Sydney, as well as her Graduate Diploma in Legal Practice at the College of Law.
Rebecca has been admitted to practice in the Supreme Court of New South Wales and the High Court of Australia. Rebecca previously worked in personal injury and immigration law firms, before joining Watson Law in 2017.
Rebecca has experience across all Watson Law service areas including civil litigation, family law, wills and estates, criminal and traffic matters.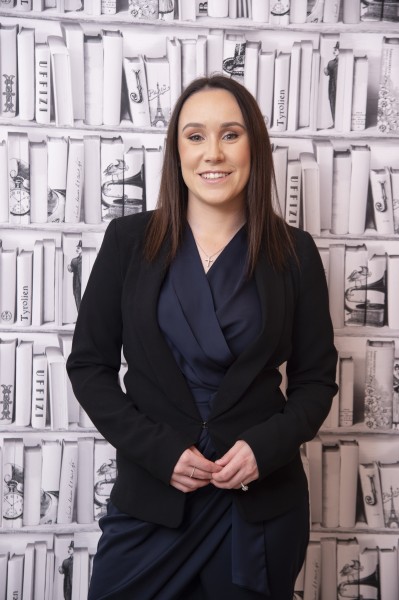 Samantha is our paralegal assisting the principal solicitor. Samantha assists in Family Law, Criminal Law, Commercial Law, Estates and Conveyancing.
Samantha has worked in the Legal industry since 2011 and is currently studying a Bachelor of Laws at the University of New England.
Samantha has a wealth of legal knowledge in all areas of law and is client focused. She is a first point of contact and has the enviable talent of making clients feel at ease and confident that their legal matter is being well looked after.
Samantha is a local to the area having lived in Macarthur all her life.
Feedback From Our Clients
"Today the kids and I officially became proud owners of this beautiful home. This was only possible because their Daddy was such a hard worker, family always came first for Trent & what he left us will make sure our children have an investment for their future. To be honest I would rather have nothing just to have him back but I am so thankful that our babies have this beautiful home. The look on their faces knowing this home is ours is just priceless & made every step to get to this point, so worth it <3 None of it would have been possible without my wonderful solicitor Karen from Watson Law, you went above & beyond to make sure we were looked after & I am forever grateful for making a stressful process a lot less stressful for all of us. So looking forward to watching my babies thrive in their home <3"
"Big thanks to a special lady, Karen Watson from Watson Law Pty Ltd who came on board as our Major Sponsor and donated her legal services to Jodie Rushton. I called Karen in the 1st few days after Jodie fell ill. I had no idea what to do to protect Jodie and to help Tiff and Jaye. Karen, whom I had never met before stepped up for us and has been an enormous part of Jodie's Benefit group. I am scared to tally the hours Karen and her daughter Samantha Watson have worked for Jodie and her family and I can't put the enormity of my appreciation into words. If you require anything related to legal matters Karen is the 1st person I would recommend. Please support her, Karen is a true professional with the soul of an Angel and she's local."
Contact us
Complete the form below to get in touch